BERLIN MEMOPOLIS
Photography Exhibition
with works from Eckhard Hammel and Angela Scheuren
Aus- und Fortbildungszentrum des Landes Brandenburg
From March 2014 until February 2015.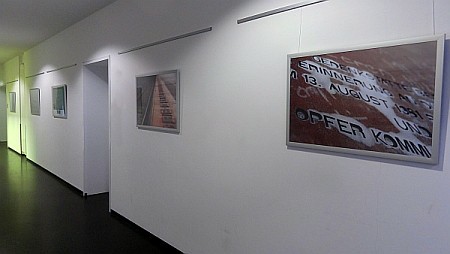 Every Metropolis has monuments (german: Denkmal), but none of them hold as many memorials (german: Mahnmal) as Berlin, The Metropolis of Memorials. BERLIN MEMOPOLIS.
While monuments remind us of historical acts, as described in history books, memorials remind us of the indescribable mass of people that suffered a grand atrocity.
Memorials demand more than just memories. They always turn on future and are directed against the recurrence of the same. In this spectrum from past to future, memorials appeal to present day.
The BERLIN MEMOPOLIS exhibition hosts in three floors around 50 photographical close-ups, sections from the artistic memorials and their respective inscriptions.
These objects are both subtle as well as complex; polyperspective. They change their appearance with the perspective from which they are watched. Each photo strives to catch a hold of one of these views in which an object attracts the attention of the viewer, addresses him and captures his imagination.
The presented memorials captivate the observer by the formal composition. They address their appeal to the present age by destroying the conventional forms. The indescribable can only be represented by presenting themselves as "un-formed", misshaped, ripped...
E.H.
Photographers
Eckhard Hammellives and works in Berlin.
Angela Scheuren lives and works in Rommerskirchen, Cologne.
URL: www.cultd.net/berlin-memopolis